| Project | PastaVoid |
| --- | --- |
| Type | Rhythm Game |
| Platform | Cross-platform (tested on Windows & OS X) |
| Team | 4 Students |
| Background | Keimyung University (South Korea) |
| Role | Project Manager, Game Designer, Developer & Artistic Director |
| Inspiration | Vectrex |
| Language | Java |
| Framework | Processing |
| Design Pattern | Game Loop, State Machine |
| Year | 2013 |
| Repository | github.com/poksme/PastaVoid |
Musical Avoider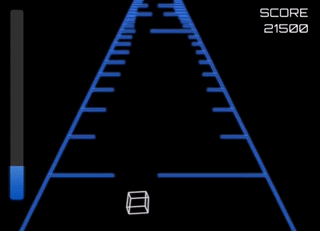 Pastavoid is a musical avoider prototyped in Processing language and finalized in Java.
The player controls a white cube, the goal is to avoid the blue walls. When avoiding multiple walls in a row the player will be rewarded with a score multiplier represented as a particle effect around the cube. When touching a wall the player will be granted a period of invincibility but will loose some life and its combo multiplier.
The scrolling and walls are synchronized to the song tempo.
Levels are designed in JSON with 2 scripting degrees: bars and songs. This way bars can be reused multiple times in one song or in another song.
Each song must be scripted with informations such as
Beat per minute
Delay before the first beat
Song Author
Song Name
Cube Speed (left right movement)
Trailer
Poster